Trixie
Screaming Scouts

Gender
Female
Hair color
Blonde
Episode Eliminated
Talentless Show
Place
16th
Relationship
Cheyne (One sided on Trixie's side)
Family
Mom, Dad, Twin Sister, Brother
Friends
Cheyne (One sided on Trixie's side)
Enemies
Screaming Scouts
Fear
Being Poor, Not Getting What She Wants
Talent
Manipulating, Getting What She Wants
Played By
Dakotacoons
Trixie, labeled as The Spoiled Brat, is a contestant in IRC Camps Season Three. She is played by Dakotacoons.
Time on IRC Camps
Edit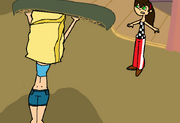 TBA
Trixie is seen in her red room with large furniture on a pink bed holding a small yorkie. "Hey! I'm Trixie, and I bought my place in this season. I ALWAYS get what I want, and speaking of that, MOM!!!! I WANT ANOTHER PONY!!!!!" *clears throat* "Sorry about that. Anyways, I promise ratings. I'm not afraid to lie, cheat, or steal my way to the top. So thanks for letting me be on your show!" She then smiles evilly. "DAD!!!! CAN WE GO TO EASTER ISLAND TOMORROW???"