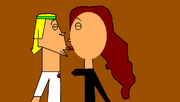 This is the relationship between Victoria and Tye. They've been an official couple since Do You Think I'm Stupid? when Tye asked Victoria out.
Tye and Victoria showed subtle signs that they liked each other throughout the episode. At the very end, Tye suggested that he and Victoria hang out sometime. Victoria agreed.
Tye and Victoria were officially considered a couple in this episode. In the second challenge, Tye had to propose to Victoria. They kissed after he did so. However, they lost the challenge. After the Killer Actors won for the third time in the row, Victoria kissed Tye. After the episode, they went on a date.
When Tye was eliminated, Victoria kissed him good-bye.
Victoria was still very upset about Tye's elimination, and wore his shirt through the episode.